Monday, 21 February 2011 10:25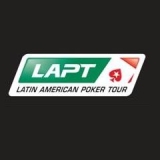 Monday, 21 February 2011
Despite the presence of five locals at the final table of the first LAPT event in Brazil, it was a Chilean who walked away with the R$615,840 (£228,000) after beating a record field of 536 players to take home the" title from Sao Paulo.
Day 1 chip leader Leandro Csome had ridden that momentum all the way to the final table, taking the chip lead to the last eight. Manzano started the day next to him as well as Brazilian Joao Neto who was third in the counts. He chipped up slowly throughout the final table as Neto went on a tear to take over two-thirds of the chips to three-handed play.
Manzano then managed to out-do K-Jo with A-3s and then making a brave call of a flop 3-bet with T-8 on an 8-3-2 board, beating a flush draw to cripple Neto and take the chips. Neto managed to survive by busting short stack Marcelo Fonseca in third place. Heads-up play lasted just a few hands, however.
On the river of a 3d-2c-2s-7c-4d board, Neto checked a third time after check-calling flop and turn bets. Manzano then moved all-in and Neto thought for several minutes before calling – Manzano turned over 5-6 for the straight while Neto stood and walked silently away. The dealer flipped over his hand for him – A-8 for just ace high.
The final table payouts were as follows:
1.Alex Manzano R$615,840
2.Joao Neto R$352,760
3.Marcelo Fonseca R$224,800
4.Marcio Motta R$165,000
5.Leandro Csome R$117,190
6.Santiago Nadal R$93,270
7.Henrique Bernardes R$69,350
8.Bruno Politano R$45,440
Keep up to date with all the news from the poker world by following us on Twitter and Facebook.