Tuesday, 01 March 2011 11:51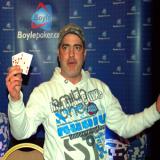 Tuesday, 1 March 2011
The Irish tournament poker circuit headed to Mayo for the BoylePoker.com Western Open over the weekend with local Aiden Cullinane taking the" title.
The man from Ballina outlasted a 230 plus runner field that included the likes of former Irish Open Champion
Neil Channing
, our own
Nicky Power
and Galway hurling star
Pete Finnerty
. Power did the better of the Bluff Europe contributors reaching the final table but he couldn't match Cullinane who sealed the" title during a three-way all in with Andy Morris and Roscommon's Tom Gallagher.
The final hand saw Cullinane initially raise to 112k, Morris re-raised all in to 463k, Gallagher called for his last 447k leaving Cullinane to make a very tricky decision. He eventually made the call with A9, putting him ahead of Morris' A8 but behind Gallagher's AJ. A 9 on the flop gave Cullinane the lead though and it was a lead he wouldn't relinquish after blanks on the turn and river.
The Mayo/Roscommon Hospice also profited from the weekend's events with a sponsored poker boxing bout raising €4,000.
Face off against Nicky Power at the online tables by signing up for an account at Boylepoker.com.
Keep up to date with all the news from the poker world by following us on Twitter and Facebook.