Wednesday, 02 March 2011 13:13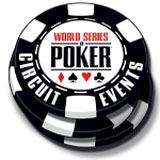 Wednesday, 2 March 2011
Despite the common age to be able to gamble live in the US being 21, certain states or Indian casinos allow 18s and over in their doors. John Riordan will be thanking his lucky stars that this is the case as he last night became the youngest-ever winner of a WSOP Circuit Ring.
Winning $210,180 for negotiating his way to the top of a 712-strong field, the 19-year-old Riordan also won a $10,000 seat in the
World Series of Poker Main Event
in 2011. He'll have to put that off until 2012 or even 2013 depending on when his birthday is (we don't know; what are we journalists or something?).
Riordan wound up across the felt with Mike Morton as the last men standing after the former eliminated Thomas Aprea in third place. The two were very aggressive and it didn't take long for several pots of a million chips or more to go back and forth. However, the final major hand fell on a board of 3d-6c-5d-3h with Morton's 6s-4s having outs but unable to outdo Riordan's Td-Tc.
This left Morton with essentially no chips and soon after he got it in with 9s-3s on a 7s-6c-2s flop only to run into 8-7 and fail to find his nine or spade.
The full final table payouts were as follows:
1.John Riordan $210,180
2.Mike Morton $130,057
3.Thomas Aprea $95,392
4.Austin Buchanan $70,939
5.Ryan Lenaghan $53,468
6.Jon Brody $40,837
7.Dave MacDonald $31,599
8.Jesse Okonczak $24,771
9.Gerald Timmons $19,655
Keep up to date with all the news from the poker world by following us on Twitter and Facebook.