Friday, 04 March 2011 10:53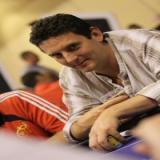 Friday, 4 March 2011
Victor Chandler Poker has added Roy Brindley to its professional ranks. The writer, commentator and of course poker player will act as a Team VC Captain.
The Irish-based Brindley will be donning the VC Poker patch at forthcoming European Masters of Poker events where he will be acting as coach, host and captain to Victor Chandler's qualifiers who play in the EMOP tournaments.
Andy Horne, head of poker at Victor Chandler, said, "We are very happy to have Roy "The Boy" captaining Team VC at EMOP and we are sure that his presence at the live events will have a positive effect on the performance of the Team VC players. Roy brings a wealth of knowledge and experience to the table and is highly capable of imparting sound advice and strategies as well as winning the odd event himself.
"Ultimately we wish for our players to have as enjoyable a time as possible at the EMOP events as well as to be given every opportunity to succeed and we have every confidence that Roy will make that wish a reality for all concerned."
Roy "the Boy" Brindley added, "Poker has become way too serious in recent years. Yes we are all chasing a life-changing result but you have to accept that winners inevitably outnumber losers by a ratio of nine-to-one in tournaments and, consequently, it's prudent to view 'a cash' as reason to rejoice and elimination an excuse to party!
"I can promise Victor Chandler's EMOP qualifiers plenty of the latter and hopefully some of the former at the EMOP's superb venues starting in Portugal in just three weeks time."
Join Roy at the tables by signing up for an account at Victor Chandler Poker.
Image courtesy of Mickey May.
Keep up to date with all the news from the poker world by following us on Twitter and Facebook.